Happy Thanksgiving and happy holidays! We wanted to express our sincere gratitude for allowing us to attend to your health needs. Taking care of one's health is a huge responsibility and we are honored that you are allowing us to partake in being a partner at caring for your health. We treasure the relationship we build with each and every client.
We wish you a vibrant, long, happy, and healthy life. That is the goal and objective of everything we do. Please let us know if there is anything we can how we can help you better. Especially during this time of year, we wish to express our gratitude to you choosing Phoenix Men's Health Center. Every day, we are striving to improve and serve you and your needs better.
Thank you for being our patient, for reading our newsletters, for being an active part of taking care of your healthcare.
As an expression of our gratitude, we are offering a special promotion as a thank you until December 31st to shop any product you are prescribed online through our online store with 20% off.
If you have any questions pertaining to your health, please let us know. We are happy to answer your questions.
With much gratitude,
Phoenix Men's Health Center
Phoenix Men's Health Center Shop
Shop all your favorite Phoenix Men's Health Center private-labelled products through our online shop. Use promo code "HOLIDAY2016" until December 31, 2016 to get 20% off all products.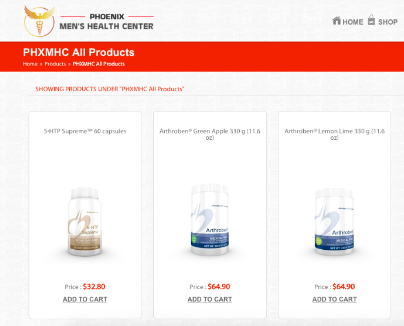 Designs For Health Shop
We offer all designs for health products prescribed at PHXMHC through our e-shop. Get 3 day free shipping in addition to using the promo code "FIRST20″ for an additional 20% off.
Want to shop through Amazon instead? We still got you covered. Use promo code "DFH74844" to get 15% off your order when buying Designs for Health products.